We home health therapists use our cars as an office, storage area, lunch room, and even as a breast-pumping space.
Here are 24 items home health therapists should consider keeping in their cars.

1. Therapy bag
Hopkins Medical Products Mark V Shoulder Bag for Nurses and Home Health Professionals (Black)
Hopkins Medical Rolling Med Bag with EZ View Features
To hold your tablet/laptop, personal protective equipment, blood pressure monitor, pulse oximeter, extra batteries, etc.
We recommend Hopkins Medical Bags for Home Health Professionals.

2. Hand sanitizer
You can stick with the stuff your office gives out for free or upgrade to the fancy, organic, foaming hand sanitizer from Target. We like sanitizers with a pump for ease of use AND a cap to avoid spills.

3. Box o' therapy papers
To store and organize multiple copies of evaluations, workbooks, blank welcome packets, patient education handouts (e.g. safe swallowing strategies, compensatory memory strategies), etc.
We use Sterilite's Portable File Box. It's designed to hold letter-sized hanging file folders, making it easy to organize your papers. There's also a nifty top compartment where you can stash pens.

4. The Home Health SLP Handbook
The Home Health SLP Handbook: Everything you need to provide speech therapy to adults in the home health setting.
I wrote this book! What a coincidence..! But seriously, this book has everything you need, including evaluation templates, worksheets, patient handouts, and much more.
An Amazon review: "A fantastic book that is a must for speech-language pathologist working in home health with adults!" Yay!

5. Patient Handouts
The printable version of nearly 100 pages of speech therapy adult patient handouts from our handbook. A great resource for therapists working with adults in SNFs, Home Health, Inpatient Rehab, Outpatient facilities, and Telehealth. Available on Etsy.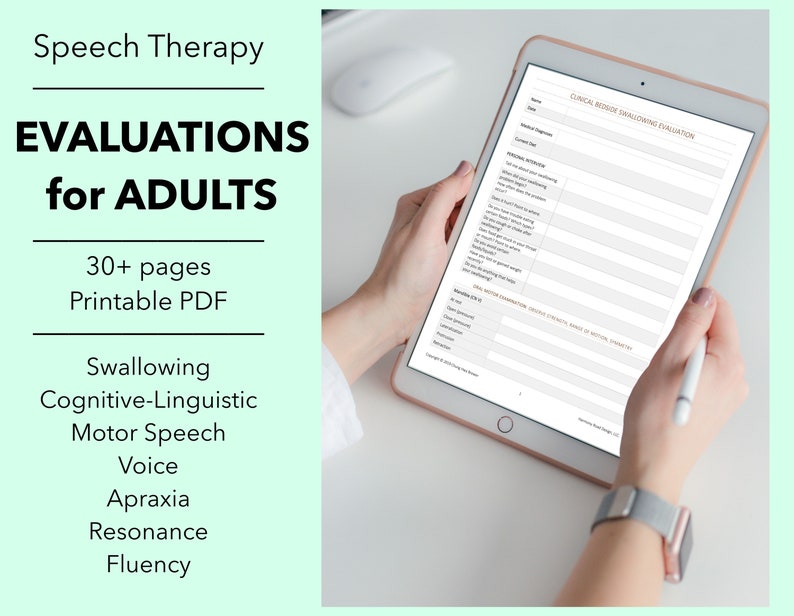 Printable evaluation forms including Swallowing, Cognition, Motor Speech, Voice, Apraxia, Resonance, and Fluency.
Print out copies and stash them in your portable file box!

6. Gum or breath mints
ALTOIDS Smalls Peppermint Breath Mints, 0.37-Ounce Tin (Pack of 9)
To hide your Flamin' Hot Cheetos breath.

While interning at Rancho Los Amigos National Rehabilitation Center, a patient survey there revealed that the #1 patient complaint about their therapists was bad breath! Show a little love and pop a breath mint or two before each patient.

7. Emergency plan inside of a red folder
Because my agency said so.

8. Lunch box (AKA recycled grocery bag filled with a couple snacks and an apple)
Sometimes when I'm feeling ambitious, I even make myself a PB&J sandwich.
Do you manage to pack a complete, healthy lunch? Please, share your secrets in the comments below.

9. Industrial-sized water bottle
Simple Modern 22 Ounce Summit Water Bottle – Stainless Steel Tumbler Metal Flask +2 Lids – Wide Mouth Double Wall Vacuum Insulated Black Leakproof – Midnight Black
Preferably one with an easy-to-open lid and over 32 ounce capacity. Pro tip: bring two water bottles or refill your bottle using the "water" option on soda machines.
We recommend Simple Modern's Stainless Steel Summit Water Bottle. This bottle holds 40 ounces, keeps your water cool, and, based on my experience of dropping it on concrete multiple times a week, is virtually indestructible.


10. Coffee cup
Starbucks sells reusable to-go cups for $2. Works well for both hot and iced drinks.

11. Stack of blank Welcome Packets for your home health agency
Because it's a pain to drive to the office just for paperwork.

12. Pepper spray
SABRE RED Pink Pepper Spray Keychain for Women with Quick Release – Maximum Police Strength Pepper Spray, Finger Grip for Aim & Accuracy, 10-Foot (3M) Range, 25 Bursts – Helps Fight Breast Cancer
I keep this in my pocket, just in case.
We use Sabre's Pink Pepper Spray. Haven't had to deploy it, but it has great reviews and it's shockingly-bright color makes it easy to find.


13. Phone charger
AINOPE Car Charger, 4.8A Aluminum Alloy Car Charger Adapter Dual USB Port Fast Car Charging Mini Flush Fit Compatible with iPhone Xs max/XR/x/7/6s, iPad Air 2/Mini 3, Note 9/Galaxy S10/S9/S8 – Black
You'll likely be streaming podcasts, music, and directions during your drives between patients, and those apps can be battery drainers.
There are a ton of good options to choose from, but we found the AINOPE Aluminium Alloy Car Charger to have great reviews for function, looks, and customer service.

14. Phone mount
Magnetic Phone Car Mount, WizGear Universal Twist-Lock Air Vent Magnetic Car Mount Holder, for Cell Phones with Fast Swift-snap Technology
I prefer the magnetic mounts that clip into your car vent.
The WizGear Mount's magnet has a larger surface area to grip your phone. The mount also 'twist-lock' tightens onto the air vent to remain stable while ALSO able to swivel if you need to change the angle of your phone.

15. Sunglasses
Joopin Semi Rimless Polarized Sunglasses Women Men Retro Brand Sun Glasses (Black Metal)
Your daily eye protection is on point.
The Joopin Semi-Rimless Polarized Sunglasses are flattering as heck on both men and women. It has 3,000+ 5-star reviews and several colors to choose from. Plus, at less than $15 you won't feel as devastated when you inevitably leave them at Starbucks.

16. Headphones
SoundPEATS True Wireless Earbuds 5.0 Bluetooth Headphones in-Ear Stereo Wireless Earphones with Microphone Binaural Calls, One-Step Pairing, Total 35 Hours, TrueFree Plus – White
Amazon.com has plenty of high-rated options for around $30. Wireless bluetooth earbuds with a microphone allows you to easily answer calls while you're on the road. Where I live, it's illegal to wear headphones while driving, but wearing one earbud is okay.
At a little over $30, SoundPEATS's True Wireless Earbuds have 1,600+ 5-star reviews with high marks for sound quality and battery-life, given the lower price point. The charging case is also a plus.
TOZO T10 Bluetooth 5.0 Wireless Earbuds with 【Wireless Charging Case】 IPX8 Waterproof TWS Stereo Headphones in-Ear Built-in Mic Headset Premium Sound with Deep Bass for Sport
If you're willing to spend a bit extra, the Tozo T10 Bluetooth, which also comes with a charging case, has over 6,500 5-star reviews on Amazon. It comes with multiple ear caps so you can adjust the sizing. Is is also said to cross-over better to workouts, as it's water resistant and remains snug while running.

17. Harbor Freight trunk organizer
This $14 bin has been in my car for 3 years and is holding up very well.
If you don't have a Harbor Freight in your area, they do sell their organizer on Amazon.

18. Comfortable shoes
Crocs Unisex Crocband Clog, Navy, 10 US Men / 12 US Women
Birkenstocks, Crocs, flats, fuzzy slippers. Whatever floats your boat and feels amazing on the drive back home.
Whether you love or hate the look of them, you have to admit that Crocs are super comfortable after a long day on your feet.

19. Emergency pants and shirt
Cherokee WW Revolution WW610 Women's Mock Wrap Top, Caribbean Blue, X-Large
Bodily fluids, furry pets, and food are typical culprits for staining your work wardrobe. Have a back up.
Cherokee's Mock Wrap Top scrubs are cute and generally well regarded for fit and comfort. Scrubs fit is highly personal depending on your body and preferences, so be sure to try them on or read reviews first!

20. That trash bag filled with stuff for Goodwill
Whoops, I keep forgetting to drop this off. Maybe I can do that before lunch today…

21. Pad of Post-It Notes.
Post-it Super Sticky Notes, Rio de Janeiro Colors, Great for Reminders, 67% Plant-Based Adhesive by Weight, 4 in. x 4 in, 6 Pads/Pack, (675-6SSUC)
For To-Do lists and memos (all HIPAA compliant, of course).
I personally like sticky notes with lines as it makes jotting notes on-the-go easier and neater.

22. Dollar Tree swag
Calendars, monthly planners, white boards, highlighters, pencil grips, and large print word search puzzles.

23. Breast pump (and extra lunch box with ice pack)
Spectra Baby USA – S1 Plus Premier Rechargeable Electric Breast Pump, Double/Single, Hospital Strength
You may not be breastfeeding, but we wanted to put it out there that you can pump on the go. Pro tip: it's possible to pump even while you're driving. Where I live, it is not considered "distracted driving," but it's a good idea to check your local laws. Super pro tip: save up for a wireless breast pump, like the Willow or Elvie. Game changers (link to Elvie Pump Here)
The Spectra Baby is a solid breast pump that worked well for me with baby #1. It's portable, lightweight, and affordable. Some insurances will cover this model.

24. Workout shoes
Nike Women's Free TR 8 Training Shoes (10, Blue/Black/Silver)
For an easy transition from work to the gym, a run, a hike, or maybe even a round of pickleball.
The Nike Free is always a solid choice for an attractive, good quality, lightweight workout shoe. Of course, the best shoe for you depends on your unique needs 🙂
To review, the 24 must-have items to have in your car:
Therapy bag
Hand sanitizer
Box of therapy materials
The Home Health SLP Handbook
Patient Handouts
Gum or breath mints
Emergency plan
Lunch box
Water bottle
Coffee cup
Welcome packets
Pepper spray
Phone charger
Phone mount
Sunglasses
Headphones
Trunk organizer
Comfortable shoes
Emergency pants and shirts
Donation bag
Post-It Notes
Dollar Tree therapy materials
Breast pump
Workout shoes
More Resources:
Some of the links in this post are affiliate links. This means that if you click on the link and purchase an item, we will receive an affiliate commission, at no cost to you. As an Amazon Associate, we earn from qualifying purchases.