Nearly 100 pages of Evidence-Based Patient Handout for Speech Language Pathologists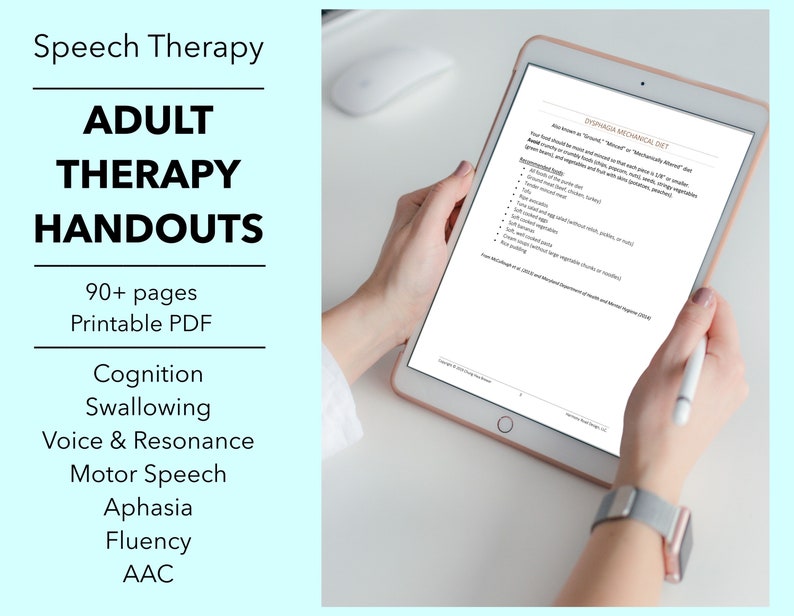 Who is it for?
The 'Adult Patient Handout Pack' is designed for Speech-Language Pathologists working with adults in Skilled Nursing Facilities, Home Health, Inpatient Rehab, Outpatient facilities, and Telehealth.

What Patient Handouts are included?
1) Memory
-Strategies to Improve Memory
-How to Avoid Memory Loss
-Spaced Retrieval
-Daily Journal
-Monthly Calendar
-How to Remember to Take Your Medications
-Brain Organization Tips
-Memory Book Template and Sample
2) Problem Solving
-Practical Math Problems
-Check Balancing
-Medication Management
-How to Fill a Pill Box
-Safety and Avoiding Falls When Transferring From a Wheelchair
-Oxygen Tubing, Avoid Getting Tangled
-How to Organize Your Bills
3) Visual Neglect
-Visual Neglect Strategies While Reading
-Cancellation Tasks
-Connect-the-dots
4) Dysphagia
-Puree Diet
-Dysphagia Mechanical Diet
-Mechanical Soft Diet
-Dysphagia Advanced Diet and Regular Diet
-Thickened Liquids, What's the Difference?
-General Guidelines for Thickened Liquids
-How to Use an Incentive Spirometer
-Deep Breathing
-Directed Cough
-Frazier Free Water Protocol
-Energy Conservation Strategies
-Esophageal Soft Diet
-High Calorie Diet
-Range of Motion Stretches for Head and Neck
5) AAC
-No Tech, Low Tech, High Tech, and Alternative Access Ideas
-Alphabet Board
-Needs Board
-Code Board
-E-Tran Board Template, Caregiver Instructions
6) Language

-Semantic Feature Analysis Template
-Phonological Component Analysis Template
-Language Expression and Writing Tasks
-Language Comprehension and Reading Tasks
-Word Finding Strategies
-Communication Strategies
-Picture Naming Photos (40 total)

7) Motor Speech
-Practical Motor Speech Tasks
-Diaphragmatic Breathing
-Breath Control
-Clear Speech Strategies

8) Voice & Resonance
-Vocal Hygiene
-Stretches and Relaxation
-Manual Circumlaryngeal Massage
-GERD precautions

9) Fluency
-Fluency Strategies
-Breath Curve
Can I use the handouts for Virtual Speech Therapy? How about In-Person Speech Therapy?
The 'Adult Patient Handout Pack' comes as an Instant Download PDF on our Etsy Shop. This means that therapists can send a digital copy of the handouts to their patients at any time. They can also easily print out physical copies to give or mail to patients.

Are they Evidence-Based?
Yes! The Adult Patient Handouts includes references to back them up.

Click Below to See More!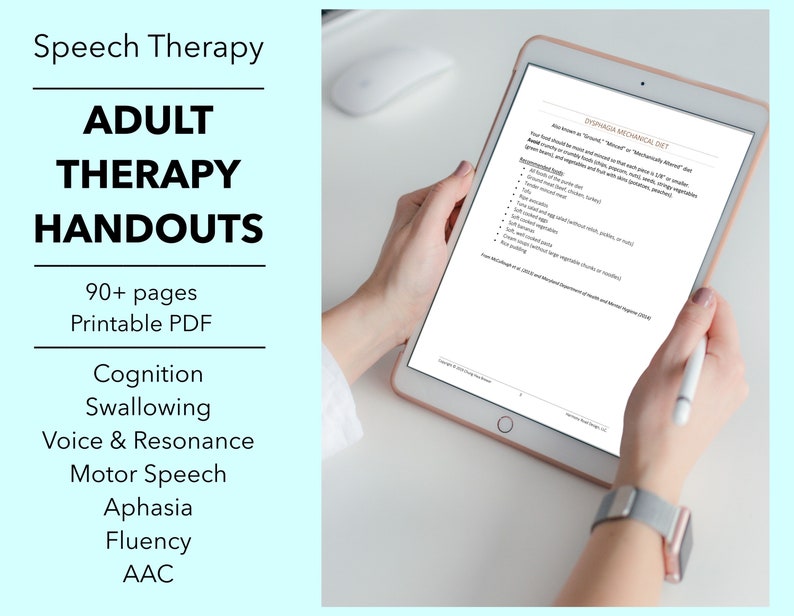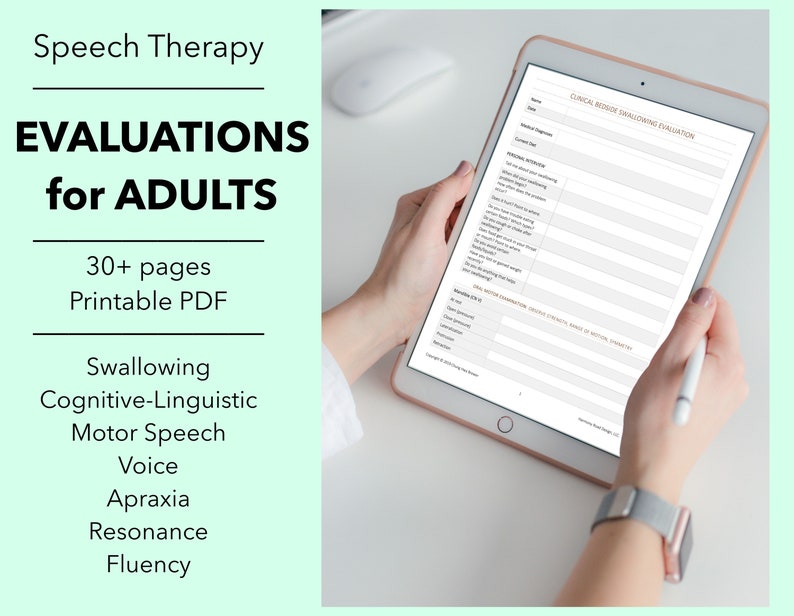 Some of the links in this post are affiliate links. This means that if you click on the link and purchase an item, we will receive an affiliate commission, at no cost to you. As an Amazon Associate, we earn from qualifying purchases.