Let's delve into cognitive treatment, the bread-and-butter of Adult Home Health Speech Therapy!
These tasks are also useful for caregivers, OTs, PTs, and RNs of patients who don't have speech therapy but may benefit from cognitive training.
Soap Box Moment!
Remember to keep your treatment functional. Functionality is the name of the game in home health. Workbooks can be a good starting point for some patients and for homework. But, please, graduate to practical tasks as soon as possible.
Why? Because the goal of treatment is to help patients become as independent and safe as possible. It's fun to improve Sudoku skills. But it's even better to improve safety with medication management!
Some Tips to Improve Daily Homework
Remind patients to complete their "brain exercises" at least 15 minutes every day
We've had good luck explaining the importance of cognitive treatment as "Use it or Lose it"
Provide printed handouts when possible. Preferably print on neon paper then laminate to avoid becoming damaged/lost.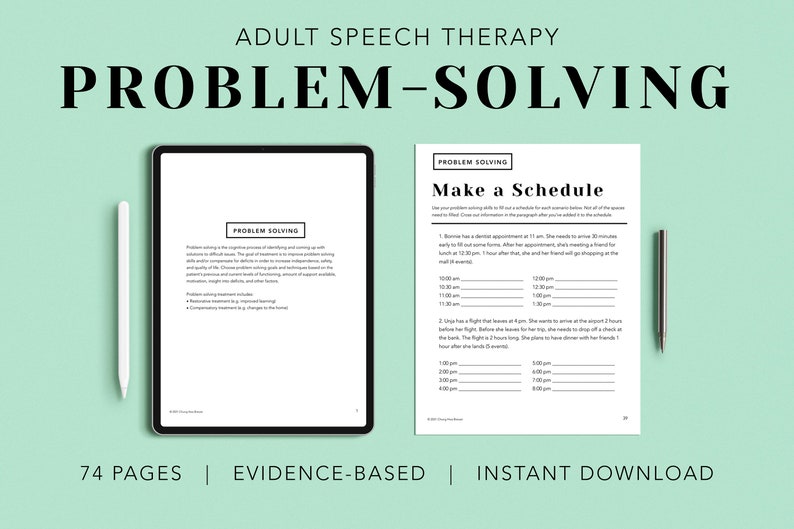 Problem Solving Handouts, Worksheets, & therapist treatment guides
More Popular Articles:
21 Practical Cognitive Tasks

1. Setting alarms or phone reminders: Patients can create alarms to wake up, take medications, eat meals, call the pharmacist, or refill a pillbox. I typically use their cellphone alarms. Then write simple directions for how to add or edit an alarm for patients to review and practice. Smart home devices, such as Amazon Echo with Alexa, often have the capability to program and sound alarms and reminders.
2. Filling out pillboxes: Provide a handout (available here) and teach your patients the following steps:
Fill out your pillbox at the same time and day every week
Turn off the TV, silence your cellphone, and avoid having conversations while filling out your pill box.
Place all your prescription bottles on the left side of the table.
Open all the compartments of the pill box.
Take one prescription bottle and fill in one week's work
DOUBLE CHECK YOUR WORK before moving on to the next bottle.
Place that bottle on the right side of the table.
Complete steps 4 through 7 for the rest of your prescriptions.
Encourage your patients to be systematic about filling out their pillboxes. If the patient needs help, work with the nurse or a family member to ensure that someone is setting up their pillboxes until they can do it safely independently.
3. Meal planning: Unfortunately, malnutrition is not uncommon with older adults. Sometimes, connecting patients to Meals on Wheels can solve the problem. If patients don't wish to participate in Meals on Wheels, we can help them write lists or fill their planners with what foods they will eat on certain days and when they should go grocery shopping. Visit the local grocery store, snag a free weekly ad, and review it with your patients.
4. Following recipes: If your patient likes to cook for himself, then a great functional task is to follow recipes. Review magazines that include recipes or print out a few simple recipes from the internet. Sometimes, you may even have enough time to make a nice snack during your session!
5. Using a cellphone: Most of my patients have cellphones, although, in my experience, only about 20% of them know how to use basic features such as "Silence," "Alarms," "Calendar," or "Calculator." You can review the phone's user manual with the patient (can easily be found online) or provide simple, step-by-step written directions to teach them any one of these basic features. I do this with patients who are hard to contact because they don't answer their phones and for the patients who are interested in technology.
6. Using a landline: When calling a patient's landline to set up an appointment, I am frequently greeted by this automated message: "The voicemail box you've reached is full. Good Bye!" You can help these patients learn how to listen to and delete voicemails. Once again, it's very helpful to place step-by-step directions next to the voicemail box to help them remember how to use the system. Furthermore, some patients may benefit from speed dial and we can break that process down for them too.
7. Web browsing: Review how to open browsers, use Google, check emails, and close tabs. A task that seems so simple can be life-changing for the folks who really want to learn how to use a new tool.
8. Updating a calendar: Train patients when to cross out dates and appointments, add new appointments, and to review their calendars at least daily. Calendars can usually be found at dollar stores or you can print monthly calendars online for free. 
9. Reading the newspaper: Newspapers' small print and packed content can be difficult to attend to. Train your patients how to use finger scanning or even a blank piece of paper to cover the parts they aren't reading to keep track of their spot. These are simple sustained attention techniques that can be used during other reading tasks. Read side-by-side with the patients and ensure that they read every word aloud.
10. Reading advertisements: Read paper or digital advertisements and review ways to keep track of the items the patient is interested in buying, such as circling items with a bright red marker or highlighter or making a list. Encourage the use of a magnifying glass, as needed.
11. Sorting through mail: After an inpatient stay, such as at a hospital or SNF, patients tend to receive a torrent of mail that ends up in large, unorganized piles throughout their house. You can help your patients by asking them to divide each pile into smaller, organized groups of paperwork: "keep," "maybe keep," or "throw away." After going through each pile, review the "maybe keep" group of papers again to help the patients thin down the "keep" pile as much as possible, as appropriate.
12. Paying bills: You may need the patient's Power of Attorney (POA) or a family member's help with the following financial management tasks, but if a patient is cognizant and mentally clear, then you can help guide her to use her credit cards or checks to pay bills over the phone. Refer to your supervisor & home health company's guidelines for receiving permission to complete financial management tasks with patients as you may be exposed to sensitive information. You can also help your patient download apps or use the "favorite" option to save websites of a variety of utility or credit card companies.
13. Organizing bills: The purpose of working on financial management skills is to help patients organize paperwork and create a system so that they can independently manage their finances. You can facilitate this by asking them to write due dates on their calendar, organize bills into "paid" and "unpaid" piles, and take careful notes of when bills were paid and with what form of payment.
14. Setting up automatic payments: Similar to paying bills, you can help a patient set up automatic payments via phone, app, or website.
15. Balancing a checkbook: Review how to balance a checkbook with your patient. Ideally, have an enlarged printout of the check balancing table to practice with your patient until she has become more independent (available here).
16. Medication Management: Our patients will often have a medication list from the hospital, SNF, or PCP office. If not, your home health company should have a copy, which you can print out and bring for treatment.
Ideally, provide a blank Medication Management form to help patients write down and organize their medication, vitamins and supplements, dosages for each, and what time to take each (available here). Review all medication names, purposes, and times taken.
Teach patients How to Remember to Take Your Medications. Create a handout (or find one here) and use to teach the following steps:
Keep a routine: take your medications at the same time and place every day.
Make a list of all your medications. Include what they're for, how many pills you should take, and what time of day you should take them.
Use a pill box.
Place reminder notes where you'll see them – on the bathroom door, refrigerator door, or coffee pot.
Use alarms – program your phone to have the alarm sound whenever you need to take your medications.
Use a calendar – write reminders to take your medications and cross them out only after you've take your pills. You can also mark when you should call in to ask for a prescription refill (about 1 week before running out).
17. Calling offices for information: Guide your patient through this process, from finding the correct phone number and tracking down the correct contact person, to writing down any pertinent notes during the call.
18. Reading the TV Guide: some of our older patients still receive physical copies of the TV Guide and it may be the main reading material they enjoy. You can turn reading "the guide" into a cognitive task by asking them to plan what they will watch and when, memorize the times and channels of interesting shows, and scan for and find specific shows.

19. Making a phone list: organize and write up a list of phone numbers, including numbers for the patient's children, friends, therapists, medical providers, banks, insurance companies, etc.
20. Using a tablet (i.e. iPad): Many well-meaning family members buy their loved ones high-tech devices that quickly gather dust because our patients don't know how to use them. If your patient expresses a desire to learn how to use a tablet, then create problem-solving and memory tasks for it! For example, some patients don't know how to unlock their devices, so you can use spaced retrieval to help them learn how. Once they are more proficient at using their devices, you can even download free brain games for them to complete as part of their home exercise program.
21. Using Smart Speakers, like Amazon Echo: This is another well-meaning purchase from family members who believe that Alexa (the computer system installed in the device) will make their loved one's lives easier.
Unfortunately, most of my patients with the Echo can't remember that to activate it, they need to speak its name. On top of that, they forget that the name is "Alexa." Spaced retrieval can work well to help remember these details. You can also make problem-solving tasks out of setting up alarms and reminders.
* Also note the patient's dexterity. Do they have difficulty pushing buttons on a calculator? OTs can help if you suspect difficulties with fine motor skills.
More Resources
A quick recap! Here are 21 Practical Cognitive Tasks!
1. Setting alarms or phone reminders
2. Filling out pillboxes
3. Meal planning
4. Following recipes
5. Using a cellphone
6. Using a landline
7. Web browsing
8. Updating a calendar
9. Reading the newspaper
10. Reading advertisements
11. Sorting through mail
12. Paying bills
13. Organizing bills
14. Setting up automatic payments
15. Balancing a checkbook
16. Medication management
17. Calling offices for information
18. Reading the TV Guide
19. Making a phone list
20. Using a tablet
21. Using Amazon Echo
Some of the links in this post are affiliate links. This means that if you click on the link and purchase an item, we will receive an affiliate commission, at no cost to you. As an Amazon Associate, we earn from qualifying purchases.